Imagine sailing the Mediterranean Sea, exploring the spectacular places of Mallorca and enjoying the radiant sun on a boat full of comforts... It feels good, doesn't it? Well, renting a boat in the island's northern part is an excellent way to experience this unique adventure to the fullest.
Ready to embark on an experience that will take you to the most amazing beaches in the Bahía de Pollença and the Bahía de Alcudia?
Explore four coastal jewels of Mallorca
This paradisiacal island conquers you when you set foot on its shores. Its crystal-clear waters, natural beauty and idyllic atmosphere, make it a true oasis where you can swim, appreciate the warm climate, appreciate its landscapes and enjoy the Mediterranean lifestyle. And what better than touring Mallorca from the privileged perspective you get while sailing the sea?
Playa de Alcudia
The trip starts by renting your boat in Port de Pollença and setting sail to the stunning Playa de Alcudia. With a length of approximately 7 km, it is one of the longest beaches in Mallorca and is located along the Bahía de Alcudia.
The fusion of the blue water with the golden sand is, without a doubt, a landscape to admire! Appreciate the panoramic views from afar while disconnecting, refreshing, and experiencing exciting water activities.
Playa de Formentor
Follow your route to the captivating Playa de Formentor. Be amazed by its mountainous surroundings and spectacular panorama, as well as enjoy a relaxing day on the coast, sunbathing and exploring its crystal-clear sea. If you wish, it can be an ideal time to stop for lunch and enjoy the company.
On the other hand, don't forget to take pictures of the impressive cliffs and natural scenery this idyllic setting offers. And, if you have the opportunity, witness the beautiful sunset this dream area offers.
Cala Figuera
The next stop is Cala Figuera, a small beach in the northern part of the Mallorcan island. Let yourself be enveloped by the calmness breathed in this place surrounded by nature.
Of course, a magical place where you can relax all your senses, be enveloped by the feeling of peace and uniquely connect with the sea.
Cala Bóquer
But if you are looking for an exclusive experience away from the crowds, don't miss the spectacular Cala Bóquer in the Serra de Tramuntana Natural Park. This beautiful cove is only accessible by boat or on foot, with a walk of about an hour, which makes it a real hidden treasure. Its unspoiled natural environment and wild beauty will leave you speechless.
It is also the perfect place for scuba diving and snorkelling, exploring the seabed and discovering the wealth of animal life it harbours!
There is no doubt this is a hidden paradise worth knowing.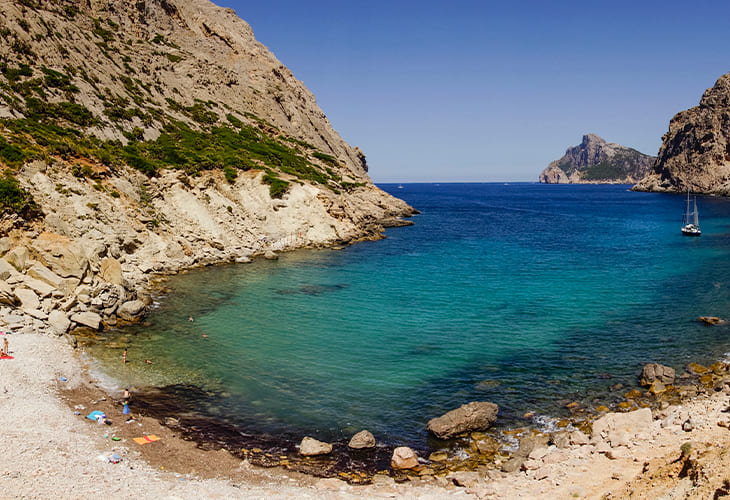 Choose the right boat
In Nautinort, we have a wide selection of boats that adapt perfectly to the route that we have proposed to you to visit the paradisiacal beaches of the north of Mallorca and satisfy your needs and preferences in terms of navigation. We leave you some options:
If you are looking for comfort and style, we recommend the Interboat Intender 820, as its classic and spacious design is excellent for sailing along the Majorcan coast. It reaches a top speed of 25.4 knots and can accommodate up to nine people without an overnight stay, which is ideal for sharing this experience with family or friends. In addition, it has a lockable bathroom, large sundecks at bow and stern, and a system of awnings that allows a total closure of the deck to relax.
Another alternative we recommend, if you prefer a more sporty style, is the ZAR 57 Well Deck RIB. Experience the thrill of going at high speed in a boat that stands out for its capacity, functionality, and versatility. It has ample deck space, comfortable seating, a hull designed for stability on the water, and plenty of storage to carry everything you need throughout the day.
Our last recommendation is the Jenneau Cap Camarat 625. Its length is approximately 6.23 meters, while the beam reaches 2.48 meters. These dimensions provide stability and agility in the water. You can customize it according to your needs, whether to explore different beaches, practice exciting water sports or let yourself be carried away by the environment's peace... It is a very versatile option!
It is worth mentioning that we have other boats available for your various adventures at sea, discover them here!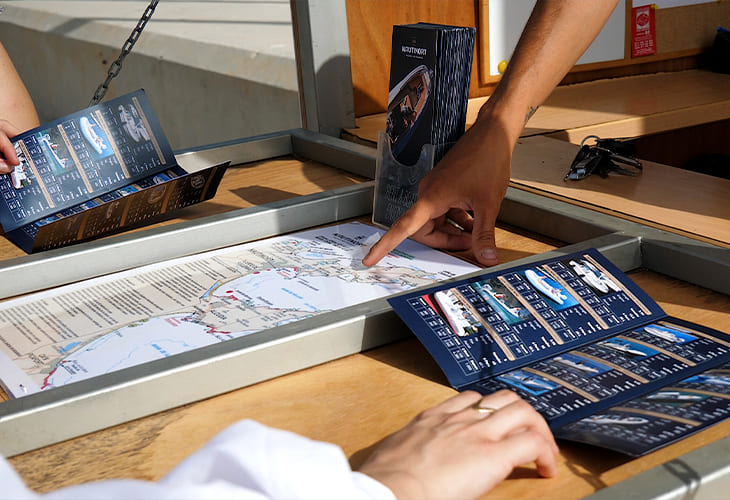 Sail the crystal-clear waters of the island with Nautinort
Are you ready to feel the excitement and freedom while exploring the paradisiacal beaches of Mallorca? Rent your boat this summer with Nautinort!
Our team of experts is happy to help you choose the optimal boat and provide all the necessary recommendations to make your sailing experience on the island unforgettable and exceptional.
Please don't waste any more time and contact us today through our website or our email: info@nautinort.com!