We are pleased to announce our 28th year participating in the Palma Boat Show! Since our beginnings at this great event, we have witnessed the growth and evolution of this boat show that opens the Mediterranean season.
The PIBS is undoubtedly an unmissable experience if you love the sea. It is a unique opportunity to establish contacts, conduct business in the nautical sector, and enjoy various activities related to the world of sea. For this reason, at Nautinort, we have always strived to offer the best in each edition, and this year will be no exception.
At our stand, we will present a wide range of high-quality boats so that you can get to know the latest trends and novelties from: the Italian brand ZAR-Formenti and ZAR Mini, the renowned Dutch house Interboat and the new brand incorporated in Nautinort, the so-called Sterk Yachts. When and where? Specifically, at Stand B3 in the Moll Vell - Port of Palma, from the 27th to the 30th of April, from 10:00 to 20:00.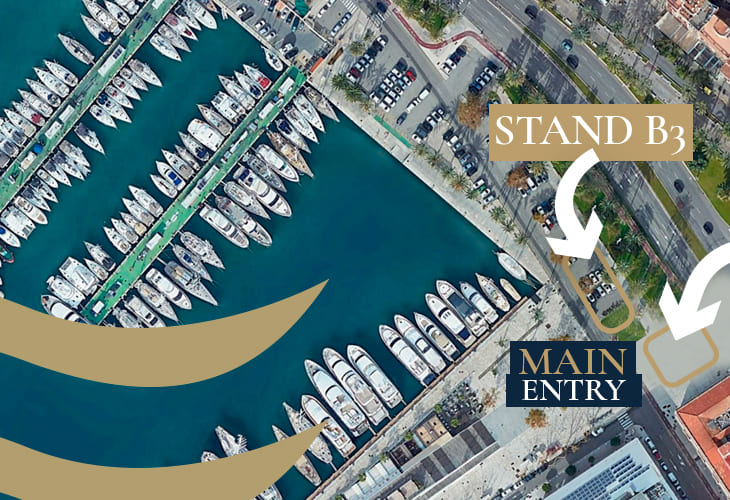 Read on and learn all the details of our participation in the Palma Boat Show 2023!
<h2<b>20 years with ZAR
For two decades, we have been the exclusive dealer in Spain for ZAR boats. Thanks to them, we offer exceptional products and services to our customers, and we are proud to say that our partnership is still going strong today!
ZAR brings innovation in design, operation, performance and reliability. At the same time, its features stand out for their versatility and adaptability, meeting diverse needs and use with its ZAR-Formenti and ZAR Mini models. They range from small inflatables to large RIBs.
Naturally, ZAR boats could not miss the Palma International Boat Show 2023! Therefore, among the models selected by Nautinort to exhibit at this event are: ZAR 79 Sport Luxury, ZAR 65 Suite Classic Luxury, ZAR 59 Sport Luxury, ZAR mini 13 DL and ZAR Mini Lux 16. All of them are of exceptional quality and will undoubtedly exceed anyone's expectations.
ZAR 79 SPORT LUXURY
Inspired by the flagship ZAR 85 SL, this model offers stability, elegance and modernity in equal measure. Thanks to its pronounced V at the bow, recognisable throughout the range, sailing is more comfortable and safer, even when the wind is against you.
In addition, the Sport Luxury line stands out for its high level of standard equipment, which guarantees a comfortable and quality life on board, a fundamental aspect of the ZAR brand.
ZAR 65 SUITE CLASSIC LUXURY
The ZAR 65 is large and spacious, with 8/9 forward-facing seats that guarantee the comfort of everyone on board. Designed with functionality and maximum use of available space in mind.
At the same time, it is fast and agile for safe manoeuvres. It is the ideal boat for enjoying the sun, thanks to its two sunbathing areas, both at the bow and the stern.
ZAR 59 SPORT LUXURY
This boat stands out for its appeal and innovative technology. The design rushes towards the rays of light, with unexpected angles and a short surface that balances its line.
It offers world-class performance and perfection in every detail. Like all ZARs, it maintains habitability, comfort and sailing quality excellence.
ZAR MINI 13 DL
This boat is an ideal model for those looking for a safe sailing experience. Thanks to its lightweight aluminium hull, it can reach fast speeds and is more durable.
The key to success for the ZAR Mini brand lies in combining high-quality materials and constant research and development.
ZAR MINI LUX 16
Innovative design, excellent manoeuvrability, interior space... These factors make the ZAR Mini Lux 16 a versatile and functional choice for all types of water sports and for sailing in general.
Interboat News
Nautinort is an official Interboat sales and service point in Spain. Interboat's open boats are spacious, comfortable, stylish and known for their exceptional quality, impeccable craftsmanship and sophisticated design.
Undoubtedly, these boats are designed for the Mediterranean lifestyle. This makes them the perfect choice for anyone looking for a boat to explore the crystal-clear waters of the coastline with greater privacy and peace to enjoy with family and friends.
As official distributors of this prestigious brand, we are pleased to be able to offer you these boats at this new edition of the Palma International Boat Show. Our team will be available to provide you with more information and help you find the boat that best suits your needs. You will also have the opportunity to take a closer look at the following models:
Interboat Intender 820 ES
The big sister of the Intender 700. Spacious and comfortable in any of its areas, with no differences in cabin height; safety for all the people on board who can move safely between the large sundecks at the bow and stern.
You can also spend the night with your family and friends and enjoy fantastic sunsets thanks to its awning system that allows the deck to be closed entirely.
Interboat Intender 950 Cabrio
A true hybrid between a dinghy and a cruise ship. It stands out for its spacious cabin, with a kitchen, bathroom and bunks to spend the night on board with the comfort of any hotel. You will find a large sun lounger and a six-person sofa in its outdoor area. With the Interboat Intender 950 Cabrio you will need a little more to live an unforgettable experience and spend a pleasant day at sea.
Sterk Yachts disembarks at the Palma Boat Show
We have great news for lovers of speed and comfort in sailing! This year, the Palma boat show will witness the official presentation of the new Sterk Yachts brand in Spain, with its new jewel: Sterk 31 RC.
A collaboration between the boat manufacturer Milan Sterk, the designer Carlos Vidal and the naval architect Sasha Vlad has resulted in a Mediterranean design with cutting-edge technology and perfect functionality.
At Nautinort, we will be honoured to exhibit this sports boat that stands out for its high-performance hull, digital navigation system and home automation as standard, configuration with an aft cabin or dinette and power up to 600hp. At our stand, you will have the opportunity to get to know the incredible capabilities of the Sterk 31 RC model, as well as get to know it first-hand. We will be happy to answer any questions about this innovative brand and explain how you can enhance your experience on the water with this boat.
In addition, on Friday 28th, we will be holding an exclusive presentation for the press with music and snacks included. On the other hand, on the 4th, 5th and 6th of May, we will conduct sea trials for Spanish and international journalists, and on request.
Nautinort, leading exhibitor at the Palma Boat Show 2023
After 27 consecutive years, we are proud to participate and exhibit our boats at one of the most important nautical events in Europe, attracting thousands of visitors worldwide.
At Nautinort, we will join more than 250 companies to present all our new products. In addition, we will have models available for immediate delivery, such as ZAR 59 SL, ZAR 79 SL and Interboat Intender 820 ES.
From 27-30 April, get ready to live this unique experience and see you at PIBS 2023!
</h2<b>